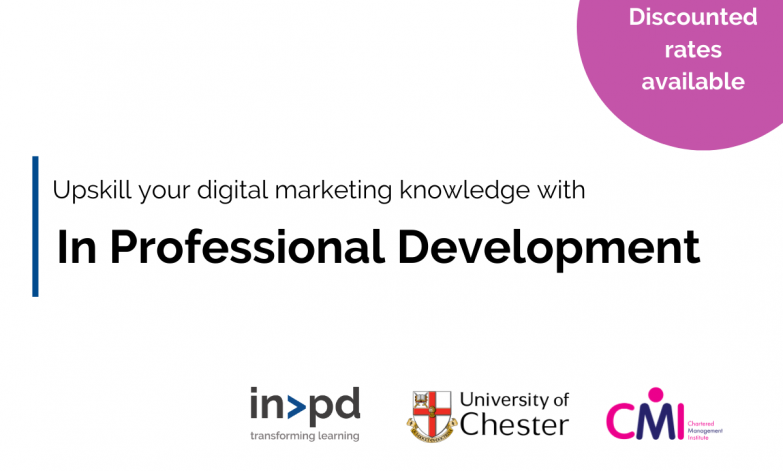 In a recent survey by Totaljobs, '67% of responders said that they're re-evaluating their career and next moves as a result of COVID-19 and changes to the market.'
At In Professional Development we strive to create positive, lasting learning experiences that deliver real world impact. We work with our academic and professional partners to deliver highly interactive programmes that are designed to strengthen the learner's mind and skillset.
We understand that the world of digital marketing has shifted dramatically over the last 6 months and as such, more people are looking to upskill and strengthen their understanding of the digital marketing mix. Our range of digital courses, which are positioned at level 6 and Level 7, are specifically designed to help learners upskill in the key digital marketing areas.
Below you can find a list of our most popular Digital and Marketing courses…
Digital Marketing and Social Media programme.
The digital landscape is constantly evolving and it's vital for digital leader's, marketers and small business owners to stay ahead of the curve. Our Digital Marketing and Social Media programme will help you transform your organisation's digital presence, increase engagement, and keep up to date with the latest trends in digital marketing and social media. You will learn the tools and techniques required to digitally grow your business and remain competitive.
The 4-day programme is centred around developing the skills to create a digital marketing strategy, brand building, social media marketing, advertising in a converged age and how to plan, measure and evaluate your strategies.
CMI Level 7 Digital Leadership Programme.
A Significant amount has changed over the last 8 months and as a result digital transformation has been thrust into the limelight. It is the number one challenge facing organisations today. The Digital Leadership Programme will equip leaders with the skills needed to lead themselves, and translate that knowledge into leading others and forming effective team collaboration. You will become a digitally informed, empowered leader and know how to prepare and help your organisation respond more effectively to technology driven change.
This 3-day digital programme focuses on digital transformation, digital leadership and strategy and implantation.
Strategic Marketing and Communications for leaders.
Our Strategic Marketing and Communications for Directors course will introduce you to the processes and methodologies of marketing planning and strategy. The learnings will enable you to take a fresh perspective back to your organisation along with innovative models, concepts and ideas that will improve the performance and effectiveness of the board and your organisation.
This 2-day course will help you develop a tactical perspective on the underlying issues that affect your business and how they can be remedied through effective strategic planning in marketing.
Directors Development Programme.
The 5-day Directors Development Programme is designed, in partnership with the University of Chester, to upskill senior leaders in the areas of leadership, management, finance, marketing & strategy and governance.
This programme is perfect for small business owners who are looking to upskill in the key areas of leading a business. Each delegate will develop the skills and knowledge base needed to lead any company as an effective business leader. From a marketing perspective, learners will develop the key knowledge to gain a basic marketing understanding and the techniques needed to design and execute a marketing strategy.
Please note: All these programmes are available via the virtual classroom or face-to-face learning in a city centre location.
If you would like to know more about any of our digital and marketing programmes listed above and our discounted rates please contact Mike Johnson at m.johnson@inpd.co.uk or call 07940706828 and quote 'INPDFishHook.